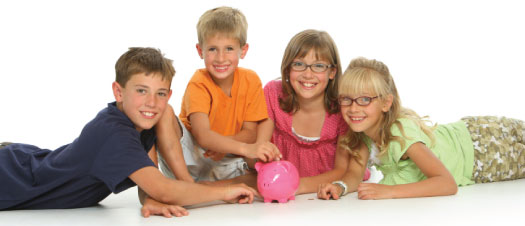 Parents today are eager to help their children learn the critical life skill of managing money that many wish they'd learned growing up. This is a tough issue since everyone has their own philosophy of when and how much to share. However, most financial experts agree that it's never too soon to begin teaching children the importance of every dollar, and that we only have one chance to decide how we're going to spend that dollar.
Here are some simple tips and guidelines to consider as you begin to teach your children — whether they are preschool age or young adults — some basic money management skills:
Lead by example — Test results after a decade of teaching financial literacy in California schools found that while solid financial principles were taught in the classroom, kids mimicked the spending, saving, and giving strategies their parents used at
Discuss goals — From young toddlers to college-bound students, discuss their goals for the year, then help them find ways to accomplish those go For example, if your daughter wants to attend the prom but doesn't have a lot of money, talk about buying a gently used dress and accessories at a local resale shop or through sites like eBay: prom dresses or RenttheRunway. The key is to show them no matter what their goals are, there are always ways to save money to accomplish them.
Get their help in cutting costs — Parents find that kids of all ages can become very focused on cutting costs when they are rewarded. For example, one father shaved nearly $500 off his annual electric bill by offering to give his kids half of what he Parents of two grade schoolers saved over $120 last year by paying their students $1 each to drink water at a restaurant rather than sodas. A single mom rewarded her kids with a trip to the local pool (on half-price night) last summer each week they helped her reduced her grocery bill by $25.
There's no free ride — One of the best lessons parents can teach is that everything has a co If a young child wants a toy, maybe he/she needs to do some simple chores around the house to save for it. Teenagers need to know there's a limit on how much they'll be given per month…and that when it's gone, it's gone. Parents of boomerang children (children who return home to live after college), after a reasonable adjustment time, can begin to charge rent to cover increased food, laundry, and utilities costs. These strategies encourage responsible choices and accountability at any age.
Teach them how to pay bills — Do your preteens or teenagers ask for the movie channels, have a cell phone, or continually want to add to their music collection? If so, discuss what choices they have, how much you'll contribute, and how much they'll need to pay for these ben This is also the perfect time to discuss how to reduce costs.
For example, rather than buying new CDs or DVDs, buy used locally or trade on sites like SwapaCD or SwapaDVD. You may also consider an unlimited monthly music subscription like those offered by Rhapsody, Spotify, or Rdio (some even offer family plans). If your teen's cell phone costs more than you can or want to pay, suggest he/she call the phone company to see if there's a better pl One teen recently increased her data plan and reduced the monthly fee by $22 just by asking the carrier about a better solution.
Discuss college costs — Parents today often cannot afford to pay for co Begin early to discuss how much you'll contribute. Set the limit based on the money you'll have, not how much you can borrow (through your retirement plan or school loans). The sooner students understand they will need to cover the cost through scholarships, grants, or school loans, the more prepared they'll be both mentally and financially to attend higher education.
Help kids save for the future — Teaching kids about saving for the future is important at any Talk with your credit union or local bank to see if they have special accounts for children or young adults. Popular online savings programs include ING's Kids Savings Account, USAA Youth Accounts, and The Mint Kids Calculators.
Cover the high cost of debt and account mismanagement — Sitting down with teenagers to discuss interest rates on credit card debt and NSF charges (the high cost of bouncing a check) will quickly teach them they can do a lot more with their money if they're not continually paying overdraft or high interest Equate the cost to how many hours the teen will need to work to cover those charges.
Oprah's handy How Many Hours Will You Need to Work to Pay for That? calculator helps teens (or anyone) realize how long they'll need to work to pay for bank fees or anything they want to purc One teenager began checking his account balances online every day after he realized he was working 12 hours a month just to pay his monthly overdraft charges. Another teen decided to purchase a used Xbox after calculating how many hours it would take him to buy a new one.
Use helpful resources — Find simple ways to teach a money lesson every Make it fun and interesting by using some of the many helpful sites and resources we'll highlight throughout the year. Also check out these online sources to help teach kids about money: Tykoon.com, ThreeJars.com, Money Mammals, CountMyBeanz.com, and U.S. Mint's H.I.P. Pocket Change.
We hope this is helpful. Let us know if you have other sites, strategies, or apps you have used or found helpful in teaching your kids about money.