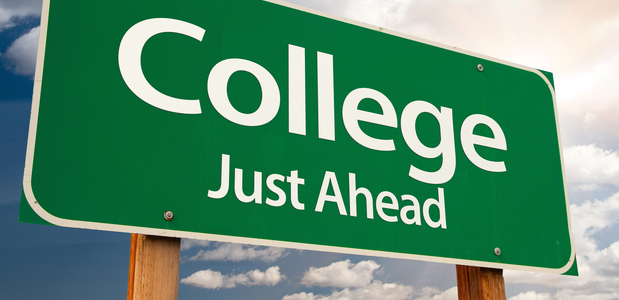 As students of all ages head back to school, the National Retail Federation estimates that families will spend a whopping $72.5 billion on all back-to-school shopping — including college. In this post we'll focus on tips to help older students save money, and also identifies some additional college-related scams to watch out for.
First, let's talk savings….
Deals — Search for bargains for students at sites like StudentUniverse or StudentRate.
Wireless — Save money on calls home or to your friends by using Google Talk or Skype, or try a no-contract or pay-by-use plan with Virgin, Straight Talk, T-Mobile, or Ting. For free texts and calls, use Pinger.
Commuting — Save money on gas, insurance, parking, and auto maintenance by using public transit, bikes, commuting with friends, or ride-shares. Carpool with eRideShare.com, Zimride, or Toogethr.
Backpacks — For older students who won't outgrow a backpack, it's worth it to spend a little more for a well-built pack. Many companies take pride in the durability of their backpacks and will guarantee them for life. Check out TheKrazyCouponLady.com for these articles on Best Back-to-School Backpack Warranties and The Ins and Outs of Backpack Warranties.
Computers — Whatever you buy will be outdated in a matter of months, so save money by purchasing last year's model, a refurbished model, or by using student/education pricing. Here are some student discount programs: Dell University, HP Academy, Toshiba Back to School, Lenovo Students, Apple Education Pricing, Apple $100 Gift Card with Mac Purchase, Apple Refurbished Products, Microsoft Chip In Program (allows friends and family to contribute to your computer fund).
Money-Saving Tip: Don't buy from one of these company sites just to get a free laptop bag or flash drive. You may find better deals elsewhere.
Software — Investigate academic licenses to save hundreds of dollars over retail when buying computer software for students. Check sites like Microsoft Academic Savings, Microsoft Authorized Education Resellers, AcademicSuperstore.com, or JourneyEd.com.
Food — A campus meal plan can be a great deal…if you use it. Break down the cost of the plan to price per meal. Also consider a mini fridge in the dorm room. It may be a larger initial investment, but can greatly cut the cost of budget-busting fast food or restaurants.
Textbooks — According to reports cited by StudentPIRGs.org, students spend an average of $1,200 annually on textbooks and supplies, and textbook costs have increased about three times faster than the rate of inflation over the past decade. Save money by borrowing from a friend who took the same course, checking local used bookstores, using the tips from StudentPIRGs.org, or searching the myriad of online resources:

Try Amazon for new, used, e-texts, and rentals.
Use Freebook Sifter to easily find over 2,000 free e-books on Amazon.
Rent textbooks at Chegg or CampusBookRentals.
Discover open educational resources (OER) and textbooks at OCW Consortium, OERCommons, Khan Academy, Washington's Open Course Library, MIT's OpenCourseWare, edX, Merlot, Connexions, or Wikibooks.
Insurance — Consider purchasing an inexpensive renters insurance policy for students living off campus to protect valuable personal property (computer, television, stereo, bicycle, or furniture) in case it's damaged, destroyed, or stolen.
Caution: A dependent student living off campus may not be covered under his or her parent's insurance, so talk with your insurance agent to see if a separate policy is required. You'll find more tips here: NAIC Consumer Alert: Renters Insurance for College Students.
Scams for Older Students to Avoid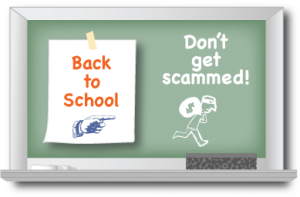 While we covered many of the most notorious scams in a recent issue, here are a few more to watch out for:
Student accommodation scams — Be wary of unsuitable or overpriced rentals that show warning signs of quick or cheap fixes. Also, avoid non-existent rentals: Crooks advertise in college communities, offering a house or apartment they don't even own. Even if the ad looks legit, they can take your money up front, then disappear. To combat scams, look for an approved list of landlords at your college, consider leasing with a reputable property management company, and verify ownership with the local county authorities. Caution: Never send an electronic money transfer or provide cash or personal info to a potential landlord you haven't researched.
Digital scams — Beware of online ads, popups, social media messages (even from friends), or offers that seem too good to be true. In unsolicited offers, look for poor spelling/grammar, and hover your mouse cursor over any links before clicking to see if they link to legitimate sources.
Text/SMS gift card scams — Congratulations! You received a text message saying you've won a free back-to-school shopping spree, gift card, or other prize (usually from a well-known store like Best Buy or Walmart). Also known as smishing (SMS + phishing), these unsolicited texts contain suspicious-looking links (e.g., www.walmartgift.mobi), and clicking one could sign you up for more spam or allow scammers to hijack your device.
"Free" financial aid scams — Some "helpful" financial aid firms encourage students to misrepresent information to qualify for more aid. With all of the recent abuse in financial assistance applications, the penalties are severe. You could be fined up to $20,000, sent to prison, or both. For safe financial aid assistance, go to StudentAid.ed.gov and FAFSA.ed.gov.
Using these tips and understanding these frauds will help students save money, avoid scams, and focus on education more fully.